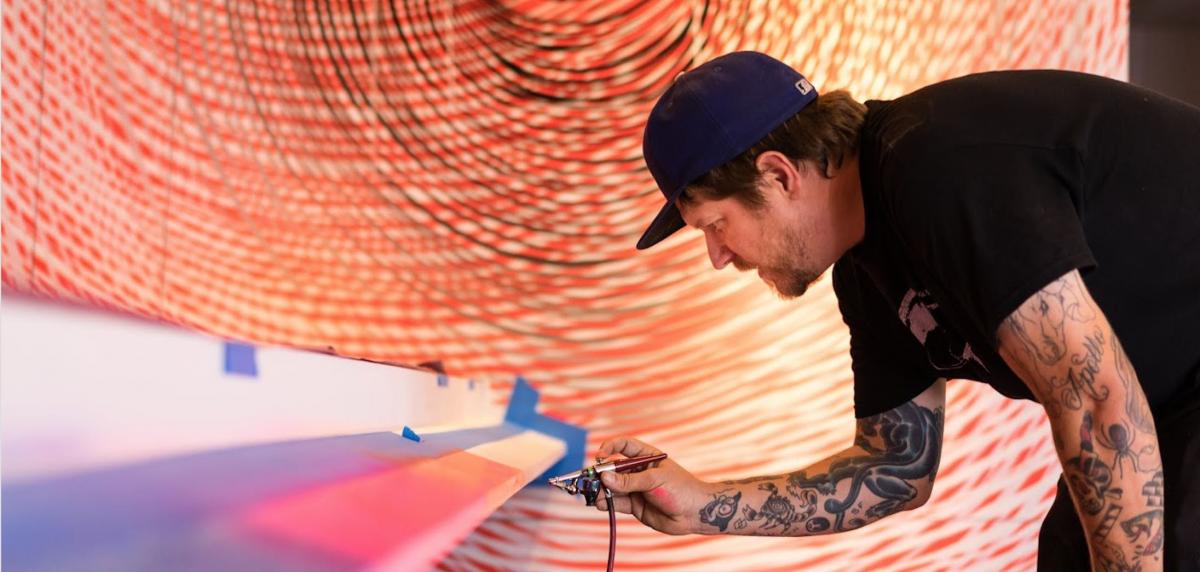 Long Beach Public Art Festival Spurs Economic Activity
The City of Long Beach won the Award for Excellence in the Economic Development Through the Arts category of the 2018 Helen Putnam Award for Excellence program. For more about the award program, visit www.helenputnam.org.
---
As the City of Long Beach (pop. 478,561) emerged from the Great Recession, its mayor and city council prioritized economic development by adopting the Blueprint for Economic Development, a set of strategic guiding principles focused on efforts to create businesses, well-paying jobs and increased standards of living for diverse residents. One key element to becoming an exceptionally livable, inventive and inclusive city, articulated in the blueprint, was public art.
"We want to create a new and exciting, dynamic environment for residents and visitors," says John Keisler, economic development director for Long Beach. "Over the past couple of years, we've been looking for ways to activate underutilized spaces in the city."
City staff got the opportunity to do just that when approached by local entrepreneur Julia Huang, who was spearheading an effort to bring the renowned Pow!Wow! arts festival to Long Beach. Founded by artist Jasper Wong, Pow!Wow! originated in Hawaii as a week-long gathering of local and international artists to create murals and other forms of art.
City staff supported Huang's effort, and a collaborative partnership evolved that included the City of Long Beach, Long Beach Museum of Art, Long Beach Convention & Visitors Bureau, Downtown Long Beach Associates, Port of Long Beach and a collection of local businesses.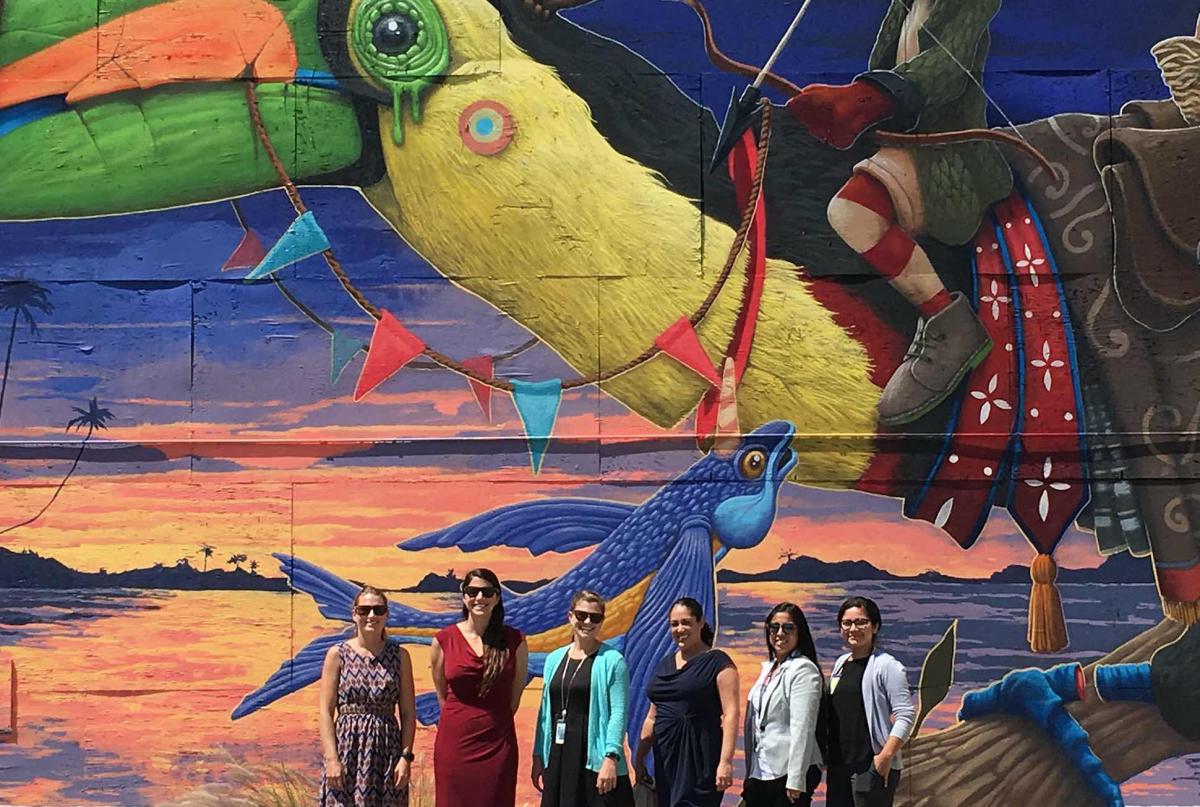 Transforming Public Spaces
Pow!Wow! has reinvigorated public art in Long Beach, with more than 50 murals now adorning walls, bridges and buildings.
"We've seen economic benefits from infusing art into the public space," Keisler says. "It raises property values and creates venues out of previously underutilized spaces. The Pow!Wow! Long Beach event has an economic impact and has become a major draw for residents and visitors to come experience different parts of the city and shop at local businesses."
In addition to showcasing artists painting murals, Pow!Wow! Long Beach includes events featuring live music, food and refreshments, held in a pop-up store that sells festival merchandise. Other highlights are panel sessions with participating artists, journalists and festival founder Wong; art exhibitions and live art demonstrations; and social gatherings held in city locales beautified by previous Pow!Wow! participants. Concurrently, the Pow!Wow! School of Music provides an intensive residency for youth and young adults, who perform at events throughout the week.
The city supports Pow!Wow! through funding and several other channels, including identifying potential sites for murals, securing right-of-entry permits and facilitating access, providing special events planning and support, and commissioning murals by local artists to coincide with the festivities. During the event, Long Beach also hosts bike tours of Pow!Wow! art and live painting sessions, using bike-share equipment to promote alternative transportation.
Numerous volunteers assist in coordinating and staffing the festival, and dozens of local businesses and organizations participate as sponsors and partners.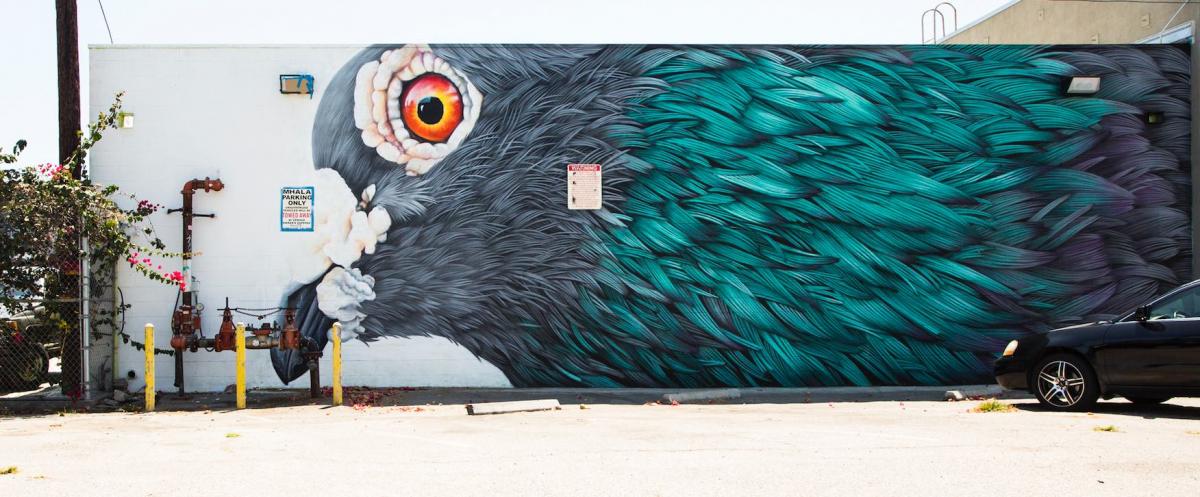 Event Generates Many Community Benefits
"Each year, we get so many businesses on board," says Pow!Wow! Long Beach Director Tokotah Ashcraft. "People are visiting parts of town they're not familiar with, and we're getting people who are coming to Long Beach for the first time — they are all being exposed to these participating businesses."
Paper programs and a smartphone app serve as a passport for Pow!Wow! attendees to obtain discounts at participating retailers and restaurants. Long after the event, art enthusiasts are drawn to the new spaces created by Pow!Wow! works, and the density of public art in the downtown area near the waterfront encourages exploration on foot or by bike.
Spaces outside downtown are activated, too, with works placed in traditionally low-income business corridors. The murals also mitigate blight; for example, one wall was graffitied 103 times before an art installation — and just twice after.
"Once a week we get someone asking if we can paint their wall," Ashcraft says. "People have a sense of respect when a mural goes up."
Pow!Wow! art has beautified the cityscape. At the Long Beach Convention and Entertainment Center, artwork has created an outdoor gathering space and enhanced the facility lobby. Long Beach Convention & Visitors Bureau President and CEO Steve Goodling says the location now "feels like an arts venue, with a juxtaposition between street art and fine art. You feel that you're in a really great, provocative, vibrant space that conventioneers love."
"Pow!Wow! has really become a community type of project," Goodling says. "That's because Long Beach has people who appreciate urban art."
Artists also revere the festival and, in turn, the city. Artist Mina Hamada, based in Spain, first visited Long Beach for Pow!Wow! 2017, improvising her mural based on inspiration she drew from the city.
"Traveling and painting a mural is how I communicate with the world," Hamada says. "At each site where I paint, there is always communication with the local people and support from the people who live there. If we can't understand each other's languages, we can overcome that with emotions through the mural."
The Pow!Wow! program, now in its fifth year, is so successful it continues to grow in influence and popularity. Founder Wong credits much of the Long Beach program's success to the "mind-blowing" support of the city and its community and business partners.
The city provides $50,000 each year for the Pow!Wow! program out of the Special Advertising and Promotions Fund, which is funded by hotel occupancy tax revenues. The program advances in several ways the priorities in the city's Blueprint for Economic Development, the 10-year map of economic development objectives and strategies.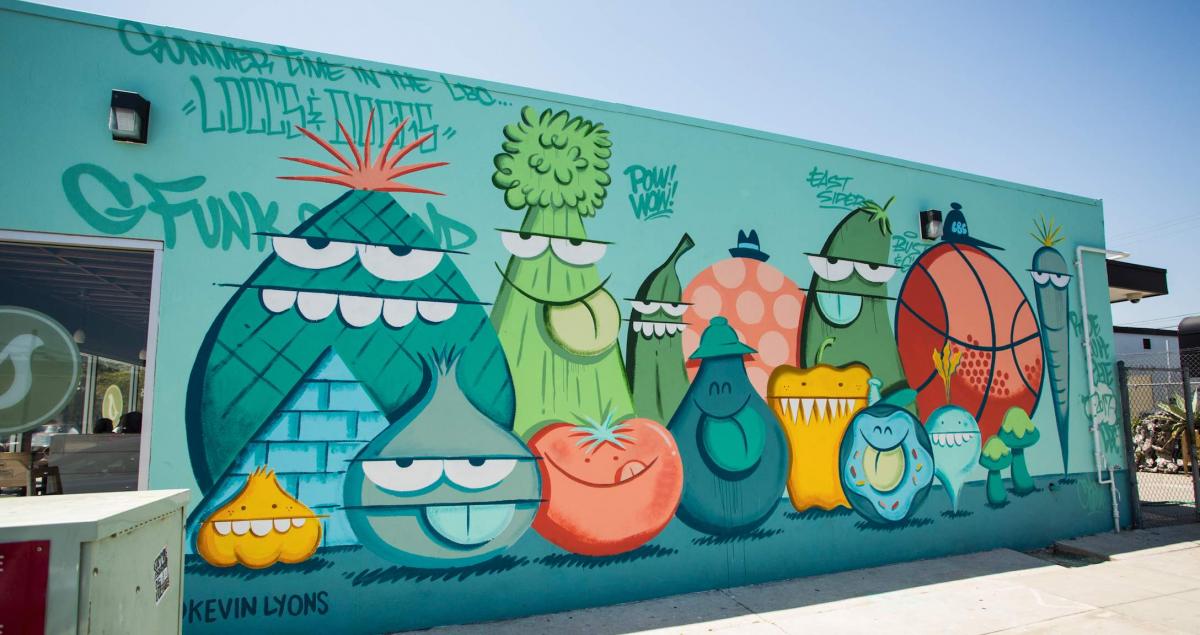 Festival Continues Gaining Momentum
Long Beach's abundant public art also attracts media attention. Forbes included Pow!Wow! Long Beach in its list of "The Best Urban Mural Festivals Around the Country." Thrillist highlighted Long Beach as one of the "Most Walkable Cities in the U.S." and among "Eight American Cities Making Big Improvements in 2018," in part because of the appeal and accessibility of its murals.
This successful economic development tool celebrates Long Beach's unique culture, fosters urban renewal and promotes a creative economy.
"We're very excited about Pow!Wow! Long Beach and this ongoing relationship," Keisler says. "We have plenty more walls and opportunities for artists and visitors to come enjoy Long Beach and also leave their own cultural mark on our city."
Contact: John Keisler, economic development director, City of Long Beach; email: john.keisler@longbeach.gov; phone: (562) 570-6099.
---
Related Resources
Pow!Wow! Long Beach www.powwowlongbeach.com
Inspiring the Creative Economy: How Cities Increase Economic Activity Through Innovation and The Arts
How the Arts and Cultural Tourism Spur Economic Development
Engaging Your City's Youth Through the Arts
Eureka's Arts District Drives Local Economy
Fontana Arts Program Invigorates Local Economy
Temecula's Arts and Culture Support a Thriving Economy
Palm Desert Capitalizes on Arts and Culture
Arts and Entertainment District Boosts Santa Clarita's Economy
---
Photo Credit: Courtesy of the City of Long Beach and League of California Cities.
---
This article appears in the May 2019 issue of Western City
Did you like what you read here? Subscribe to Western City