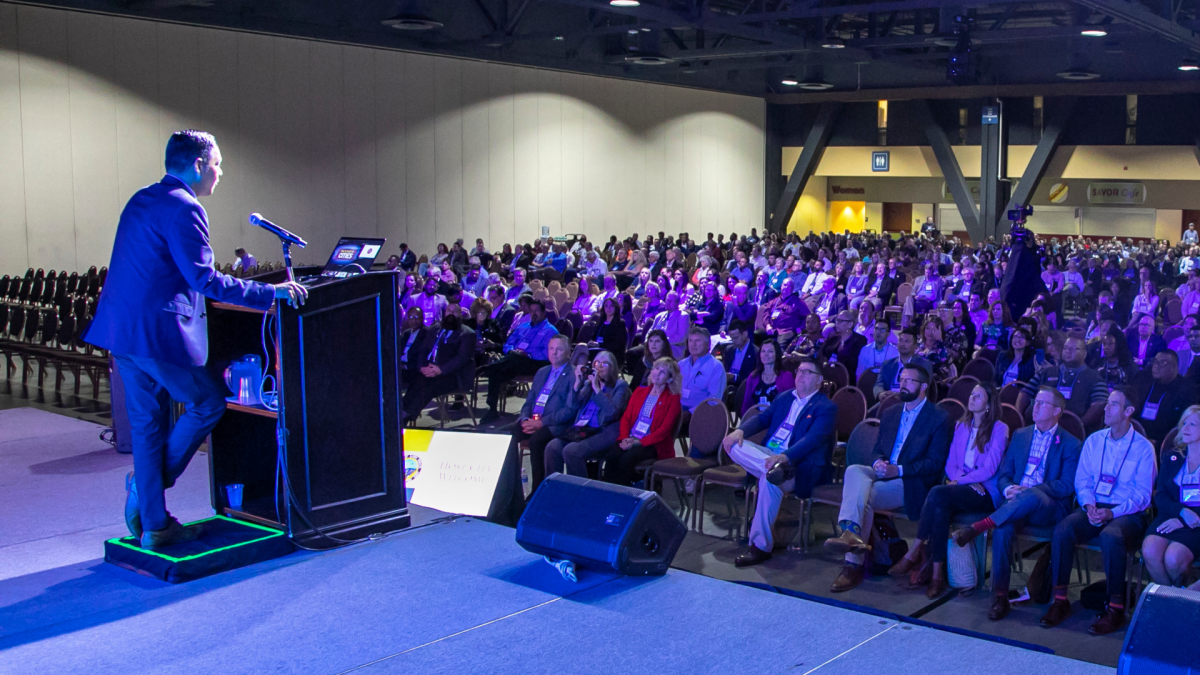 Climate change, pension costs, public safety, equity, and more: Upcoming Annual Conference and Expo speakers provide a sneak preview
---
For the first time in two years, city leaders throughout the state will come together in-person to collaborate on shared issues and celebrate the successes of the past year, at the League of California Cities Annual Conference and Expo, September 22-24, in Sacramento. The excitement is palpable: More than 750 officials signed up within the first 10 days of opening registration — half of the event's average, pre-pandemic attendance! To date, more than 1,700 officials are registered.
This year's conference will feature more than 40 breakout sessions on topics such as rising pension costs, climate change, equity and inclusion, housing, and public safety. Western City invited session speakers to share key insights from their upcoming talks in advance of the conference.
Before diving in to explore the speakers' sneak previews below, be sure to register for this can't miss event.
Climate change
Even if the world meets the goals set forth by the Paris Climate Agreement, the effects of a warming environment will be felt in California for decades. "Historical and unprecedented" wildfire seasons and droughts are becoming the norm and sea levels are predicted to rise by as much as seven feet by 2100. Three capitol corridor cities — Hercules, Suisun City, and American Canyon — and several organizations and agencies are actively working to reduce the effects of climate change by creating green, energy-efficient cities.
Read "How the public and private sectors are creating more energy-efficient cities"
Diversity, equity, and inclusion
Issues of equity and inclusion have taken center stage since 2020, with calls for increased diversity, parity, and social justice in every aspect of government and civic life. City leaders are on the front lines, creating policies and procedures that create an equitable environment both at city hall and in their community. At the Annual Conference and Expo, hear how the cities of Palm Springs, El Cerrito, Tracy, Sacramento, and Glendale are creating welcoming communities that prioritize the inclusion of all their residents, businesses, and community partners.
Read "Ensuring your city works for everyone: Best practices in diversity, equity, and inclusion"
Housing
The Covid-19 pandemic exacerbated California's housing crisis, adding even more urgency and complexity to an already dire situation. Land availability and housing affordability continue to dominate local policy discussions, while at the same time city leaders grapple with the best way to implement regulations for the growing short-term rental industry. Moreover, all of these decisions require significant public input. Discover how officials from Culver City, Petaluma, Roseville, and San Mateo, as well as experts from HdL Companies, Goldfarb & Lipman, Best Best & Krieger LLP, and Healthy Democracy are addressing the crisis in their communities.
Read "Tools for California's housing crisis: Surplus land requirements, sortition, and short-term rental policies"
Leadership
To the uninitiated, public service seemed relatively straightforward. You run for office and serve your term or you apply for the position, just like any other job. However, due to the nature of their position, city officials are governed by a complex set of laws and principles that do not necessarily apply in the private sector. Moreover, many are part of unions or local employee associations, which are also governed by their set of laws and principles. For many newly electeds, navigating these rules is half the job.
City officials are contending with an increasingly hyper-partisan, political discourse that has trickled down to the local level, as well as a desire from residents for quicker, more efficient services and solutions to pressing solutions.
Learn how to more effectively serve your community from officials in West Hollywood, Ione, Riverside, Carson, Sierra Madre, as well the leaders from the California City Management Foundation, the California Joint Powers Insurance Authority, Tripepi Smith, Prentice Long, PC, Best Best & Krieger LLP, Liebert Cassidy Whitmore, and Colantuono, Highsmith & Whatley.
Read "Labor relations, ethics, and litigation: What cities need to know"
Read "Good governance and partnerships are key to effective city services"
Read "Digital city hall: How data, social media, and new technologies are changing public service"
Pension systems
Public agencies continue to navigate through the damaging effects that COVID-19 has had on their revenues, general fund returns, and the economy. Meanwhile, their pension obligations continue to grow, putting further strain on their impacted budgets. Pension systems face an uncertain economic outlook with discount rate targets that are mismatched with future expected returns. How are agencies addressing pension liabilities during tough economic times such as these? Learn about the fiscal strategies the City of Tracy, the Town of Yountville, and CalPERS officials are proactively implementing to prepare for the road ahead.
Read "Pension costs: What cities need to know about the discount rate, Asset Liability Management process, and 115 trusts"
Public safety
Keeping families and communities safe is one of the primary functions of city government. However, the last few years have brought new challenges, including a sharp increase in cybercrimes, a lack of dedicated resources for critical issues, a desire from residents for faster services, and recent legislative changes that require new ways of approaching old problems.
Explore how the public safety departments in Vallejo, Costa Mesa, Bellflower, Lodi, San Leandro, Los Angeles, and Sacramento used innovative solutions to create safer communities. Other speakers include representatives from the Bay Area Receivership Group, Burke, Williams & Sorensen, LLP, San Ramon Valley Fire Protection District, Culture Cannabis Club, Jones & Mayer, Avenu Insights and Analytics, Best Best & Krieger LLP, Stantec, Shoup Strategies, and Meyers Nave.
Read "Innovation and culture: How leaders are improving public safety from within city hall"
Read "New challenges, new solutions: How city leaders are creating safer communities"
For more information about the Cal Cities Annual Conference and Expo, including health and safety protocols, visit the Cal Cities Annual Conference and Expo webpage. Please note, online registration closes on September 15. Sessions and speakers are subject to change.