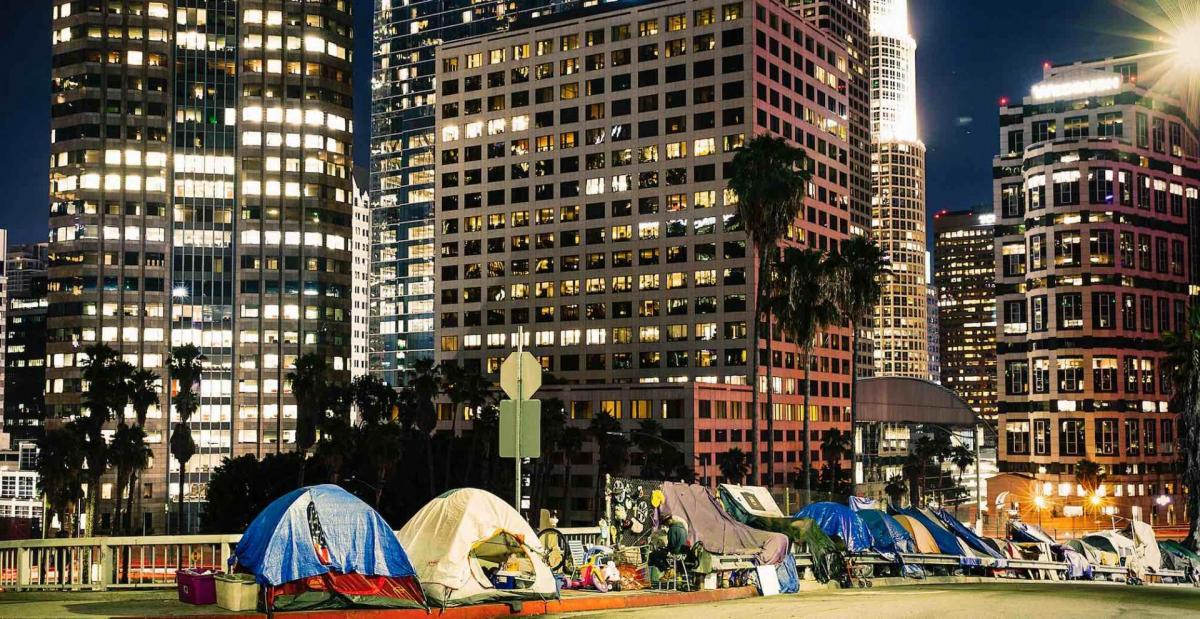 Tackling Homelessness
Ken Striplin is city manager for the City of Santa Clarita and president of the California City Management Foundation; he can be reached at kstriplin@santa-clarita.com.
---
Homelessness was a big California concern in 2018 and 2019 — both in the rising numbers of people affected and in costs incurred by cities trying to address the issue. Sometimes, it seems the only way to comprehensively tackle homelessness is to spend large amounts of time and resources. But cities do not have to wrestle with this issue alone.
At the League of California Cities 2019 Annual Conference & Expo, attendees will have an opportunity to learn how to creatively address homelessness at a session titled "The Hidden Costs of Tackling Homelessness." This session, presented by the California City Management Foundation, will take an in-depth look at practical examples of how cities such as Santa Ana and Indio are tackling the same homelessness challenges that many other California cities face right now.
A Snapshot of the Challenge
California has a growing homelessness crisis. As of January 2018:
California had an estimated 130,000 people experiencing homelessness on any given day. That is 24 percent of the United States homeless population;
47 percent of the nation's unsheltered homeless individuals were in California;
California reported the largest numbers of homeless unaccompanied youths (12,396 people), accounting for one-third of all unaccompanied youth in the nation;
67 percent of California's homeless veterans are unsheltered; and
California accounted for 49 percent of the nation's unsheltered chronically homeless individuals.
It's important to note that these statistics are nearly two years old, drawn from the 2017 count conducted by the U.S. Department of Housing and Urban Development (HUD) and local continuums of care. The Point-in-Time (PIT) counts of homeless individuals in early 2019 showed that overall, these numbers have increased statewide, sometimes despite the focused efforts of cities and counties.
HUD will not release its 2019 report until later in the year, and the preliminary 2019 PIT count data available did not include all areas. The initial numbers, however, showed that a majority of communities reported an increase in homeless individuals. The "Comparison of Homeless Count Results for 2017 and 2019" table (below) shows a sampling of data from communities statewide.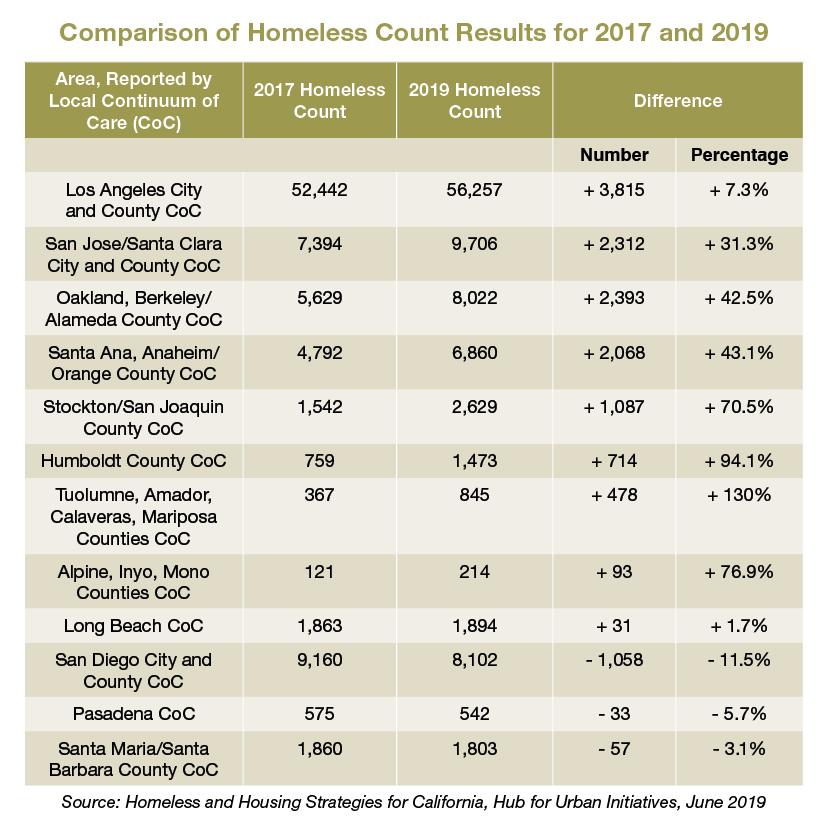 No single city is immune from this challenge, and no single city should feel alone in addressing homelessness. Serving and sheltering your homeless population while reducing chronic homelessness requires an "all hands on deck" mindset and approach.
But what if you don't have clearly delineated funding or can't agree on how to spend funds? What if your constituents push back against the idea of building homeless shelters? What happens when it's unclear which agency — the county or the city — has jurisdiction on leading efforts and solutions? How do you form public-private partnerships that actually make a difference?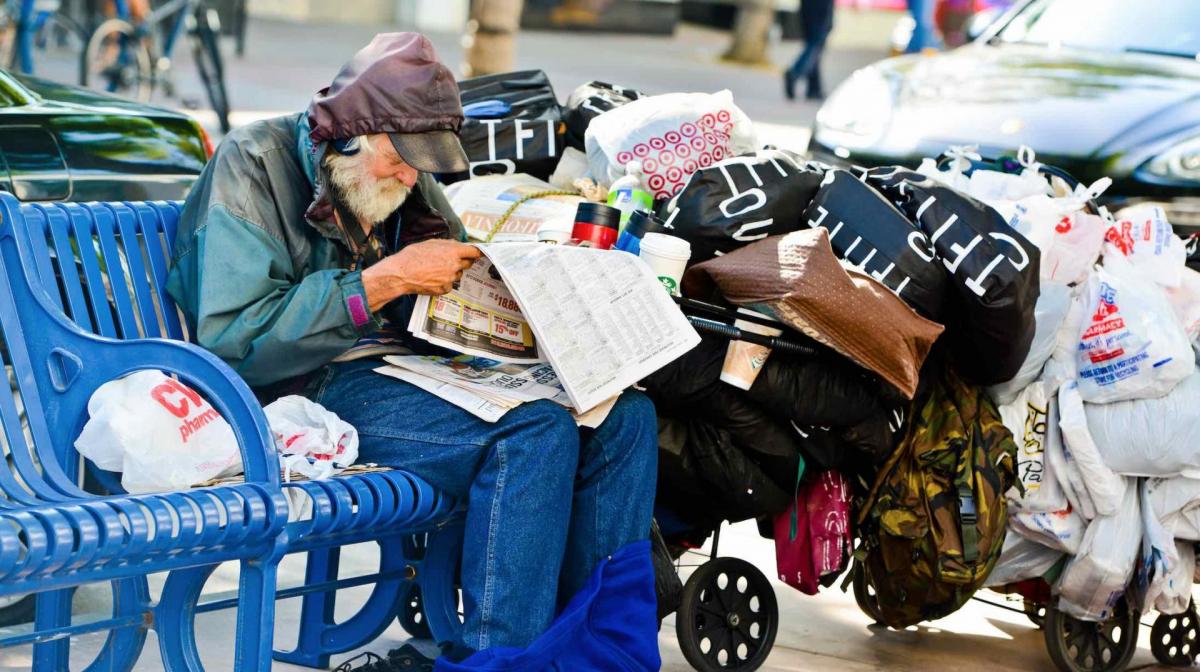 Learn More in This Annual Conference Session
Attendees at the Annual Conference session will hear from a city manager, a city homelessness services manager, a city attorney and a homeless services and shelter provider on ways they have been working and making progress on this issue in their cities.
This session will be of particular interest to:
Mayors and council members from cities with increasing homeless populations;
Cities tackling the creation of homeless shelters; and
Anyone curious about the homelessness crisis in California and how cities are responding.
Attendees will gain new insights on issues such as:
Identifying potential community partners;
Using creative approaches to find funding for fast-track efforts; and
Setting realistic and feasible goals for periods of one, two and five years.
A Sneak Peek
The panel's most in-depth case story will focus on how the City of Santa Ana created a 200-bed interim homeless shelter, The Link, in just 28 days. U.S. District Court Judge David O. Carter called this project "a model for the county, state and maybe the nation," and Western City featured it in April 2019.
Santa Ana's homeless services manager and the shelter operator will describe how those involved in the project overcame obstacles and pushed past red tape to bring a shared vision to fruition.
To fund the 200-bed shelter, the Santa Ana City Council authorized $3.1 million for its first year of operation, with the option to renew the contract with the shelter operator for a second year. The city is using its Inclusionary Housing Fund for the shelter's first year of operation; the second year will draw on a combination of funding from the SB 2 Building Homes and Jobs Act (2018) and a portion of the city's Emergency Solutions Grant from HUD.
The persistence of the Santa Ana City Council and staff, combined with coordinated efforts from the shelter operator and the building developer, made the rapid timeline possible. In addition, everyone involved was conscious of not sacrificing quality for speed. Within 100 days of starting the operation, nearly 200 people were sheltered at The Link and 78 people had been placed into permanent supportive housing, thanks to the efforts of the community, the city, the shelter operator and social services partners.
Details of the Session
Interested in learning more? Make a note to attend "The Hidden Costs of Tackling Homelessness" at the League of California Cities 2019 Annual Conference & Expo, Friday, Oct. 18, from 9:30–10:45 a.m. For location details, see the conference brochure or the League's mobile app.
---
About the California City Management Foundation
Hundreds of city managers, assistant city managers and assistants to city managers throughout California are members of the California City Management Foundation (CCMF). In addition, a number of public servants and private sector partners serve on its board of trustees. The impact of homelessness on local communities is a concern for CCMF members statewide.
---
Related Resources
Santa Ana Establishes 200-Bed Interim Homeless Shelter in 28 Days
Mather Veterans Village: A Place to Call Home
Patterson's HOST House Tackles Homelessness
San Leandro Homeless Compact Takes a New Approach
---
This article appears in the October 2019 issue of Western City
Did you like what you read here? Subscribe to Western City