Coming Together to Learn and Celebrate Our Progress
Many of you know that fall is my favorite season. Not only does it bring the changing colors of the leaves, it also means cooler weather in Sacramento. Most of all, the fall season is exciting because it means the League will soon be welcoming city officials from every corner of the state to our 2019 Annual Conference & Expo. Over 2,000 city officials will travel to Long Beach to learn new ideas from each other and experts on how to become stronger city leaders and move their communities forward.
More than 40 educational sessions will address a wide range of timely topics, including managing "carrots and sticks" in the FY 2019–20 state budget, resiliency in the midst of tragedy and devastation, "the sixth council member: social media", reimagining modern policing and how to optimize government outcomes by leveraging technology. The conference also offers interactive sessions on promising new city practices and innovation, and the Expo features hundreds of vendors ready to introduce your city to the latest in services and state-of-the-art technology. Long Beach in October is the place to be for city officials! Just as communities evolve over time, how city officials serve their residents also evolves in response to changing circumstances and new information. This year's conference offers an excellent opportunity for city leaders to enhance their knowledge and skills and continue to bring the "best in class" in city services to their communities.
The conference also provides a chance to celebrate our progress toward our 2019 strategic goals. To ensure that the League hit the ground running when the legislative session commenced in January 2019, leaders from the League's board, divisions, departments, caucuses and policy committees convened in Garden Grove in November 2018 to develop the League's strategic goals for 2019. The goals are central to having a strong unified voice and were informed by League leadership and by League members through the annual membership survey. In Garden Grove, the League also prepared for Gavin Newsom's upcoming term as the state's 40th governor.
In early January, Gov. Newsom delivered his inauguration speech in which he promised an open-door approach and expressed interest in solutions that work for all communities, including the rural areas of our state. Wasting no time in capitalizing on Gov. Newsom's interest, within days of the inauguration, the League's executive officers met in the Capitol with senior officials in the governor's Cabinet. We also met with legislative leaders from both chambers and from the Democratic and Republican caucuses. In those meetings, we shared our 2019 priorities for cities and our hope for a strong cities-state partnership.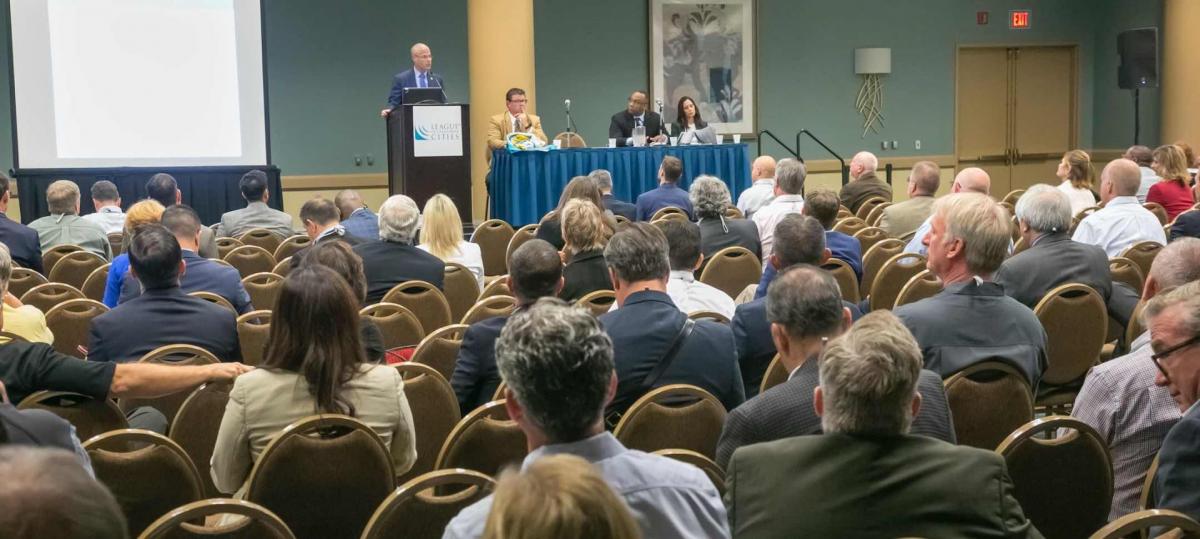 Progress on the League's 2019 Strategic Goals
Provide Cities Additional Funding and Tools and Preserve Local Authority to Address Housing Production, Affordability and Homelessness Challenges. Though California is home to the world's fifth-largest economy, we are also experiencing the housing crisis that's gripping the nation. Over half of California's renter households pay more than 30 percent of their income toward rent, making them housing cost-burdened. In addition, California has nearly 25 percent of the nation's homeless individuals, with an estimated 134,000 homeless residents as of January 2017. Every day, cities statewide are taking action to address the costs of housing production — like streamlining the development process, updating local land-use plans and raising resources for local housing trust funds, to name a few. To successfully address these challenges, however, cities also need a strong partner in state government. That's why the League is calling on the state to:
Provide resources to help cities update local land-use plans;
Restore a robust form of tax-increment financing to advance transit-oriented development to build affordable housing and revitalize local neighborhoods and communities;
Increase resources to assist people of all ages (including seniors) experiencing homelessness; and
Set aside resources to support additional affordable housing construction.
Improve Disaster Preparedness, Recovery and Climate Resiliency. The severity and frequency of California's recent wildfires is unparalleled. The 2018 Camp Fire in Butte County devastated the Town of Paradise and was one of the most deadly and costly wildfires in California's history. The wildfire destruction throughout the state highlights the need for more resources and tools to prevent and respond to these disasters. While communities individually and collectively are preparing for the new environment, they need a strong state partner. The League urged the state to provide resources to cities and expand partnerships to better prepare for and recover from wildfires, seismic events, erosion, mudslides and other disasters. And in partnership with the state, the League sought ways to improve community preparedness and resiliency to respond to disasters of all types, whether climate related, natural or man-made.
Promote Sustainability of Public Pension and Retirement Health Benefits. With many cities expecting pension costs to jump by at least 50 percent by 2024–25, the League continued to collaborate with employee organizations, the California Public Employees' Retirement System (CalPERS), the Newsom administration and the Legislature to increase public awareness of the fiscal challenges cities face as a direct result of growing unfunded pension liabilities and retirement health benefits. It's increasingly clear that cities need meaningful options and flexibility to address these challenges in order to stabilize local budgets and ensure sufficient funding remains available to provide services to communities.
Address Public Safety Concerns of California Cities. In the area of public safety, among other goals, the League is pursuing reforms to recently enacted criminal justice laws that have eroded public safety protections for our residents. The League continues to support the police chiefs and grocers-sponsored criminal justice reform measure, which is eligible for the November 2020 state ballot, and equivalent reforms achieved through legislative action. In addition, the League continues to protect local authority in connection with regulatory and legislative activity involving the adult use of cannabis under Prop. 64 (2016) and existing city authority to deliver local emergency services.
Measuring Our Progress
With the 2019 legislative session adjourning this month, we're making significant progress on our strategic goals. I hope you'll enjoy reading the following highlights about a couple of highly visible efforts in which the League has been very engaged. As expected, our early focus in the Legislature was on housing affordability, homelessness and disaster preparedness.
Housing and Homelessness
At the end of June, Gov. Newsom signed into law the FY 2019–20 state budget that included the most significant housing and homelessness-related investments in modern history with nearly $2.5 billion in one-time funds to help with planning grants, housing-related infrastructure, homelessness services, mixed-income loan programs and an expansion of the state's Low-Income Housing Tax Credit Program. The budget package also includes AB 101, the housing budget trailer bill that contains incentives for cities that take steps to encourage additional housing development, particularly high-density housing and housing near transit. While AB 101's accountability provisions — including potential court-imposed sanctions for local agencies with noncompliant Housing Element plans — are substantial, we welcomed language that incorporates meaningful due-process safeguards and opportunities to resolve legitimate disagreements between local and state agencies on matters of interpretation. We also appreciate the recognition that some communities may be facing financial and other hardships that may hinder compliance. It's important to note that over 90 percent of cities already have state-approved Housing Elements, and the number is increasing.
In other housing-related action, League-sponsored SB 5 (Beall, McGuire, Portantino), which calls for an ongoing funding mechanism of up to $2 billion annually to support affordable housing and infrastructure investment, has enjoyed widespread support and momentum. The Senate passed SB 5 earlier this year, and two Assembly committees have advanced the bill; as Western City went to press, SB 5 was awaiting consideration by the Assembly Appropriations Committee.
Disaster Preparedness
In June, the League partnered with the California Governor's Office of Emergency Services (CalOES) and the California State Association of Counties on the inaugural Emergency Management Preparedness Summit. Over 500 city, county and state officials attended the summit, which focused on:
Lessons learned from previous disasters about building resilient communities;
Enhanced local-level emergency management capacity;
Recovery best practices; and
Strategies for risk reduction.
The summit was heralded as a productive city-county-state collaboration, and resources to support improved preparedness at the local level will be an ongoing focus for cities and counties through the Institute for Local Government.
The Legislature and Gov. Newsom also pursued legislation to stabilize investor-owned utilities (IOUs) that are regularly in the crosshairs of wildfires. Just before the July recess, the Legislature sent AB 1054 (Holden, Burke, Mayes) to the governor. The bill:
Establishes a $10.5 billion wildfire fund as a liquidity fund for IOUs that can be converted into an insurance fund with IOU contributions totaling $21 billion;
Makes changes to the cost-recovery standard for utilities at the California Public Utilities Commission (CPUC); and
Creates a new CPUC safety certification for utilities.
The League closely monitored this legislation and, consistent with the League's position, it does not amend the current inverse condemnation standard of liability.
While the League has supported many bills in this session that advance the common interest of cities, as with any legislative session, protecting local authority has also meant opposing bills that would interfere with, undermine and erode local decisionmaking and community input. In cases where the League has opposed legislation, our legislative team has conveyed our willingness to negotiate with the bill's author on a compromise that respects local authority.
Your Efforts Make a Difference
Thank you to the many city officials who made phone calls, wrote letters and visited with legislators in the Capitol and in their district to advocate for the League's priorities this year. We are making progress on our strategic goals because of your efforts. Join us in Long Beach for an update on our goals, and look for a comprehensive review of our 2019 legislative accomplishments in the January 2020 issue of Western City.
---
Related Resources
Disasters in California: A Brief Overview of Preparedness, Proclamations and Assistance
City Economic Development in 2019: Resources, Options and Prospects
Santa Ana Establishes 200-Bed Interim Homeless Shelter in 28 Days
We Can Outsmart Disaster: Why Local Governments Should Get Involved
Before, During and After California Wildland Fires: The New Normal
Public Safety and Wildfire Resilience
Housing Supply and Affordability: Challenges for 2019
San Leandro Homeless Compact Takes a New Approach
Citrus Heights Addresses Homelessness in a Suburban Community
---
Photo Credit: Jeremy Sykes, courtesy of the League
---
This article appears in the September 2019 issue of Western City
Did you like what you read here? Subscribe to Western City